3U Eurorack case (stock)
This is a stock item of a case I made extra when making one for a client.
It is a 24HP case, made for deeper modules like the Expert Sleepers ES9, etc. Made with black plexiglass front & back (with cutouts for ventilation) and black rails. Others can be made on request (with a production lead time of 4-5 weeks) and this one is in stock!
These smaller 3U cases are best to be powered with a power module and a flying bussboard cable. Since they are too small for most fixed power solutions. Amongst others, you have them from Behringer, uZues, eoWave, etc. and are provided with an adapter or you have to purchase this separately. It gives you a low-cost and easy-install power solution mostly in 4HP.
Case type

3U case type - 3U Tilted, with plexiglass
Case width
If you are looking for a smaller case, like 24HP or for an Expert sleepers ES-9 module, simply select 60HP or smaller here and mention the amount of HP in the checkout. (Do take into account 4HP or 5HP for a power module!)

3U size references - 24HP
Rails colour
Standard the rails is in aluminum colour, but optionally it can be replaced by a black version.
Especially nice with the brass coloured threaded inserts!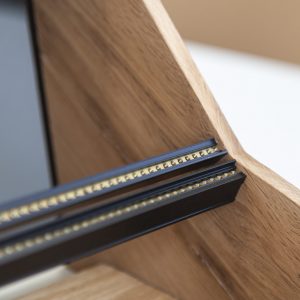 Rails insert
Slide nuts are mostly good for smaller cases, but if you prefer threaded inserts that is also an option.
Oak finish
This is the finish applied to all the solid Oak parts in the case.
Only 1 left in stock for quick delivery