Keystep Pro + Eurorack (Arjan's case)
Combination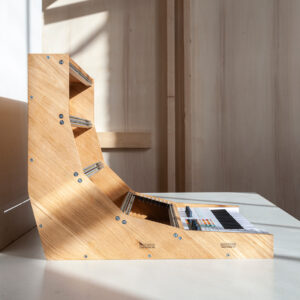 Keystep Pro + Eurorack (sizes) - 9U + front shelf for Arturia Keystep Pro, 116HP (Arturia Keystep Pro)
Oak finish
This is the finish applied to all the solid Oak parts in the case.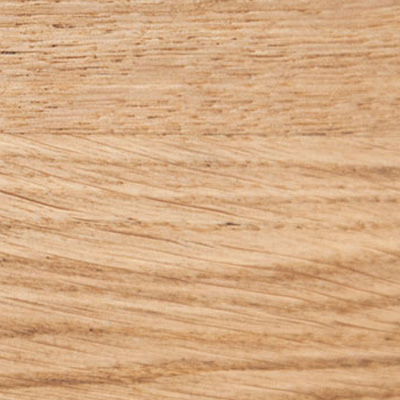 wood finish - Osmo hardwax oil
Rails colour
Standard the rails is in aluminum colour, but optionally it ca be replaced by a black version.
Especially nice with the brass coloured threaded inserts!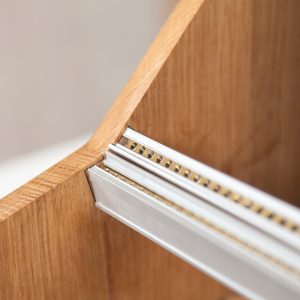 rails colour - Aluminum (included in price)
Rails insert
Select the type and amount of inserts you need here:,
For the threaded inserts you need to select the number of sets you need per 3U; so with 3U just 1x, with 6U you'll need 2x, with 9U it is 3x and with the 12U case you need 4x selected and then 5x with the 15U case. (NOTE: due to availability at my suppliers, brass threaded strips are not available but only the steel version and even there stock is limited.
For the M3 slide nuts you can select them as a multitude of 20 pcs, just select how many you would like in your complete case.

inserts - 116HP pair of M3 threaded inserts
Power supply
The Meanwell RT-65B is a low cost and efficient power supply, giving loads of power for a good price. By far the most popular and most sold PSU for Eurorack. The PSU's always come mounted to the case. The power is either DIY or pre-wired on all low-voltage wires & ground. The final connection from the socket to the PSU has to be done by yourselves (no soldering, only cable stripping & a few screws).
RT-65B Specs: +12V 3.5A -12V 1.0A and 5V 8.0A, total output power 65W.
Alternativelly there are also 2 options by Konstantlab:
HammerPWR & SeventyPWR are externally powered from a power brick. This creates the option to fully wire the system for you and ready to go, since there is no high voltage inside the case. These power supplies have been developped for Eurorack specifically, are known for their power & low noise but to come at a cost.
- HammerPWR (100 Watt output) + MeanWell 120Watt adapter, +12V 5A (2x 2.5A), -12V 2.5A and +5V 2.0A
- SeventyPWR (70 Watt output) + MeanWell 90 Watt adapter, +12V 2.5A, -12V 2.5A, +5V 2.0A
Calculation power output example based on ModularGrid:
(1.6A on +12V = 19,2W) + (0.8A on -12V = 9,6W) + (0.1A on 5V = 0,5) = Total output power of 29,3 Watt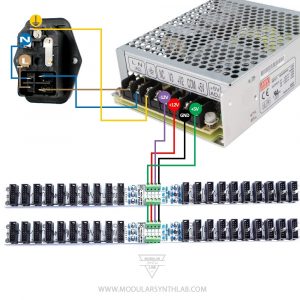 PSU - Meanwell RT65-B (65W output)
Bussboards
Power to your modules are supplied by the ModularSynthLab bussboards, with 20 connector each (cut to size on caes smaller then 84HP).
Recommended to have a maximum of 3 bussboards per PSU.
Choose for a DIY cable kit and assemble it yourselves/with local help. or choose for a system where all low-voltage cables have been pre-wired! With the Meanwell RT65B you'll only need to connect the socket(s) to the PSU('s).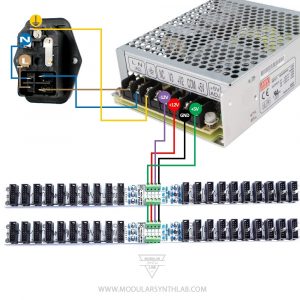 Bussboards - Bussboard, all low voltage cables pre-wired
Power socket
1 power socket for 3x MeanWell PSU's max. to not exceed the 10A fuse, otherwise select multiple.

power socket - Socket in back plate
Keystep Pro patch panel
Officially launched at Superbooth 2022, this set of patch panels enables you to patch the back of your Keystep Pro to the front of your Eurorack! It has been developed together with Voltage Vibes and when ordered here the wood veneer on top will be oiled together with the wood from your case.
Soldering is not needed, since all comes pre-soldered and ready to patch! You only need patch cables to go from the back of your Keystep to the patch panel. It can be positioned vertical in a 3U row or horizontal in a 1U row.
Power cable
AC Power Cable – 1,5m long, max. 250VAC
Shipping box (optional)
Alternatively to the shipping crates, I now also offer super-strong triple-layered cardboard boxes for small & regular size cases. The case itself is packed inside with foam blocks. Quite a good solution for international transport as well!

triple-layered shipping box - 12U (4x 3U)
Only 1 left in stock for quick delivery