SUPERBOOTH SPECIAL: 10U 104HP Eurorack case in dark-green
SUPERBOOTH 2023: I made a series of 12 (!) SUPERBOOTH SPECIALS on show in Berlin from May 11-13th. These cases & stands are also available for purchase here in the webshop on a first-come-first-serve basis. Normally I make most of my cases on order, with production times from 4 to 8 weeks, so it is a way of getting a case quickly, but there are also a few unique one-of-a-kinds that will not be reproduced.
This special has been oiled with a deep dark-green linseed oil in on the solid Oak. It has aluminum rails with threaded insert, a power socket in the back and is powered by the Konstantlab SeventyPWR with external adapter.
A homage to the 1969 classic by EMS, the VCS3. I was inspired by its angles and the iconic slots which apparently were speaker openings in the original.
My 10U model based on the VCS3 is app. 35cm deep and 39cm high. Width depends on the amount of HP (104HP is 530mm + 12mm sidepanels on each side).
For other widths and/or other models of cases, check out my configurator!
Case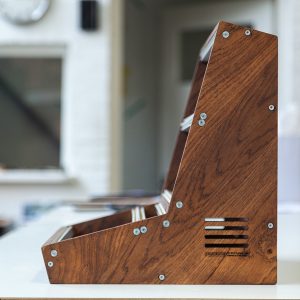 1 × eurorack size - 10U VCS3 style, 104HP
Wood finish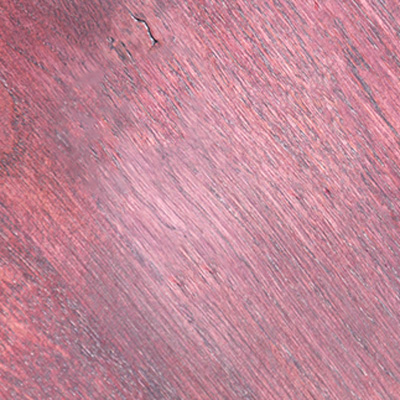 1 × wood finish - Custom-colour
Rails colour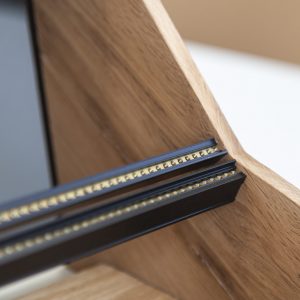 4 × rails colour - Black (per 1U or 3U row)
Inserts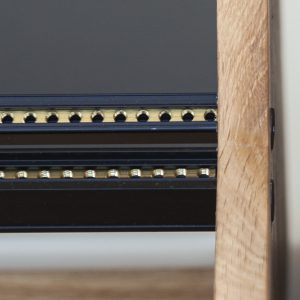 4 × inserts - 126HP pair of M3 threaded inserts
Power supply
HammerPWR & SeventyPWR are externally powered by a power brick. This creates the option to fully wire the system for you and ready to go, since there is no high voltage inside the case. These power supplies have been developed for Eurorack specifically, and are known for their power & low noise.

SeventyPWR (70 Watt output) + MeanWell 90 Watt adapter, +12V 2.5A, -12V 2.5A, +5V 2.0A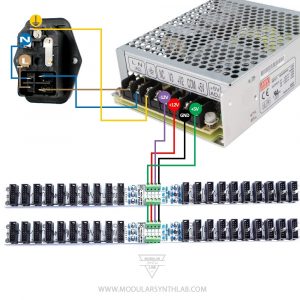 1 × PSU - KonstantLab SeventyPWR + adapter
Bussboards
Power to your modules are supplied by the ModularSynthLab bussboards, with 20 connectors each (cut to size on cases smaller than 84HP). Recommended to have a maximum of 3 bussboards per PSU. Choose for a DIY cable kit and assemble it yourselves/with local help. or choose for a system where all low-voltage cables have been pre-wired! For the PerunX PSU this means that the case is ready to go, with the Meanwell RT65B you'll only need to connect the socket(s) to the PSU('s).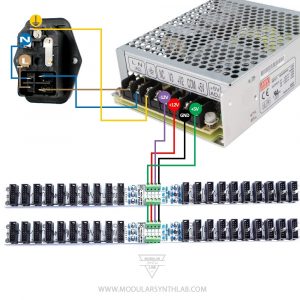 3 × Bussboards - Bussboard, all low voltage cables pre-wired
Socket

1 × power socket - Socket in back plate
Shipping box (optional)
Alternatively to the shipping crates, I now also offer super-strong triple-layered cardboard boxes for the smaller cases. The case itself is packed inside with foam blocks. Quite a good solution for international transport!
Only 1 left in stock for quick delivery ...