7U+5U 60HP BoBeats' Kitchen Table Special Edition
This special Eurorack case has been designed together with and on request of the synth-tuber Bobeats!
His request was for a smaller, compact Eurorack case for on his 'kitchen-table', next to the huge 19U 200HP case I made for him earlier 🙂
I had a concept in my mind for a case with more rails then needed, using that to construct the case .. and with that create extra 'flex-space' in 1U and 3U rows which you would normally not have (or need).
These two factors together create an experimental case, for Bobeats to explore (on his kitchentable). Maybe the 1U rows will only be used for power or some utilities, maybe it creates new patches-around-the-corner? Who knows? Feel free to experiment! It could be that modules which are too deep get in the way of each other, or that you do not use the backside 3U, or only for a 3U power module?
For other widths and/or other models of cases, check out my configurator!
Case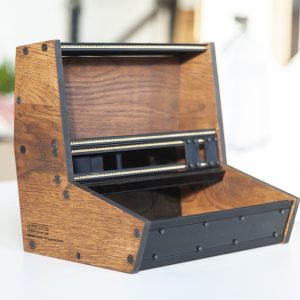 Wood finish
This case has been designed in 'classic vintage brown' look, but can also be made in different colours!
Rails colour
Also here it is designed with black rails next to the brown wood, but aluminum coloured rails can look amazing too! Standard with threaded brass inserts on this case. The plexiglass is always black (and included) though, but all panels can be replaced by any other 1U or 3U module!
Only 1 left in stock for quick delivery
| | |
| --- | --- |
| Brand | |
| Finish | Brown (nut) coloured linseed oil |
| Material | |
| Rails colour | Black |
| Rails insert | M3 threaded inserts in brass (per 3U) |
| Depth | 7U+5U BoBeats' Kitchen Table Special Edition |
| Width | 60HP (or smaller) |