9U 104HP Eurorack wall cabinet with doors
Sooo .. this is something that has been in my head for some time and now I finally took some time to turn it into an actual model! The idea was to create a case that can hang on the wall, but not only in the studio, but also in your living room or such without having all the 'cable mess' visible. So the solution was a set of doors that can be closed with the patch intact.
Some features:
The case is rotated backward a few degrees; because of this the doors stay open or closed properly because gravity does the work.
The doors can be locked on top, especially useful when there is cable bunch underneath, but also to keep it closed and neat.
The rails and wood parts are mounted with nice brass-colored screws & bolts, matching the piano hinge for the doors, and black rails inside.
Inside the doors are cable holders on both sides; keep your friends close, but your patch cables closer.
Since the case is powered by the Konstantlab SeventyPWR, it has an external adapter and no high-voltage inside the case. The power output is on the bottom, so you can go from there to a wall socket.
Eurorack case size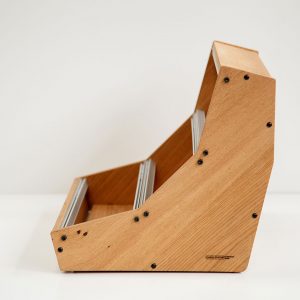 1 × eurorack size - 9U (3x 3U), 104HP
Oak finish
Two layers of Osmo is my standard finish, a hard-wax oil which keeps the solid oak look but gives a nice matt protection.
Rails insert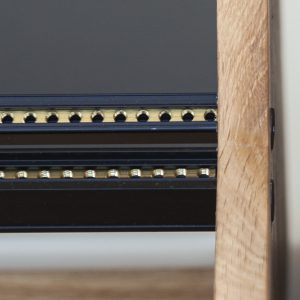 3 × inserts - 104HP pair of M3 threaded inserts
Power supply
HammerPWR & SeventyPWR are externally powered by a power brick. This creates the option to fully wire the system for you and ready to go, since there is no high voltage inside the case. These power supplies have been developed for Eurorack specifically, and are known for their power & low noise.

SeventyPWR (70 Watt output) + MeanWell 90 Watt adapter, +12V 2.5A, -12V 2.5A, +5V 2.0A
Power cable
AC Power Cable – max. 250VAC
Patch Cable holders in the doors
Additional fee
This additional fee is for the doors & hanging mechanism

8 × custom amount - 10 euro x ... for custom options
Triple-layer shipping carton (optional)
A super-strong triple-layered cardboard boxes for small & regular size cases. The case itself is packed inside with foam blocks. Quite a good solution for international transport as well!
Made to order (currently estimated 4 to 8 weeks)